Easy, Secure, Wireless Mobile Printing Solution
Convenient & secure solution to address the printing needs of mobile/tablet users
Cost-effective and ready to go, needing no additional infrastructure
Supports a wide range of file formats, printers/All-in-Ones/MFPs, mobile devices
Improves workforce productivity by enabling great quality printing on-the-go
Currently Available only in the US
Order Now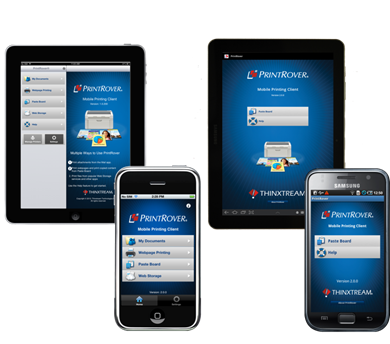 Available on Apple® iPad® & iPhone®,
and Android™ smartphones/tablets
File Formats Supported

Microsoft Office® 2003, 2007, 2010 & 2013
Printer Supported
Epson® printers/All-in-Ones supporting ESC/P®-R
HP® printers/All-in-Ones supporting PCL 3®

Any PostScript 3/PCL 5/PCL 6 Compatible Printer/MFP:

Canon® Laser Printers/MFPs
Dell™ Laser Printers/MFPs
HP® LaserJet® Printers/MFPs
Lexmark™ Laser Printers/MFPs
OKI® Printers/MFPs
Ricoh® Laser Printers/MFPs
Samsung® Laser Printers/MFPs
Xerox® Phaser® Printers/MFPs
Xerox® ColorQube® Printers/MFPs
Xerox® WorkCentre® Printers/MFPs
Managed Offering
PrintRover® Cloud™ is a fully-managed, ready-to-deploy solution from Thinxtream's Print Solutions Group. Once we deploy your PrintRover Cloud infrastructure, it works easily with the PrintRover Mobile Printing Client apps, downloaded by your users from the app stores. All you need to do is to add, delete and manage users. You can purchase annual PrintRover Cloud Services subscription packs based on the number of users, and conveniently scale it up to address future requirements.
Secure Operations
We operate PrintRover Cloud from a virtual, private server infrastructure set up exclusively for your organization over a secure, 128-bit encrypted communication link. Your IT administrator can enable PrintRover Cloud for use only by specified users from specified IP addresses. All information about authorized users and their print jobs is securely maintained.
Multi Vendor Printer & Mobile Device Support
PrintRover Cloud enables wireless printing to a wide range of printers/All-in-ones/MFPs from several manufacturers. It also supports a wide range of popular smartphones/tablets based on the Apple® iOS™ and Android™ platforms, making it a unified mobile printing solution for your organization.
WYSIWYG Printing
What-you-see-is-what-you-get (WYSIWYG) printing is a key feature of PrintRover Cloud. Your users can obtain high quality prints of documents with their original formatting being retained. PrintRover Cloud allows users to preview documents before printing and ensures that previews are accurately printed.
Multi File Format & Application Support
PrintRover Cloud supports wireless printing of a wide range of file formats including email, photos, PDF files, Microsoft® Office docs, Webpages, and more, from a wide range of apps in the native mode, making it a powerful tool in fulfilling most of the mobile printing needs of your organization.
Easy Administration & Reporting
PrintRover Cloud offers an easy, intuitive, browser-based PrintRover Cloud Management Console that enables your IT to easily add, delete and manage users. In addition, you will receive standard, monthly reports on users' printing activity.
For Organizations
Zero Touch
Your IT can effortlessly offer mobile printing to your workforce with PrintRover® Cloud™. It is as simple as ordering PrintRover Cloud Services, setting up and managing users in the PrintRover Cloud Management Console, and downloading and using the PrintRover Mobile Printing Client apps.
Low Investment
There is no need for you to invest in expensive server infrastructure or additional staff. PrintRover Cloud is fully-managed by Thinxtream's Print Solutions Group and works in an opex model. You can order an appropriate PrintRover Cloud Services subscription pack and scale it up as per need, optimizing your budget.
Increased Productivity
Your users can wirelessly print a wide range of documents from their mobile devices anywhere, be it in the office, their homes, an airport or a hotel, without the requirement for an intermediate PC, memory stick or additional software. With the major mobile platforms supported, PrintRover Cloud can be a single unified printing solution for all your users. PrintRover Cloud's high quality printing capability also allows users to obtain professional printouts on-the-go without accessing their PC.
Secure
All the information pertaining to the documents printed using PrintRover Cloud is kept secure with the virtual, private server and encrypted communication. Only users who have been authorized by your IT from specified IP addresses have access to PrintRover Cloud. The PrintRover Cloud Management Console allows you to add or delete users.
For Users
Easy to Install & Use
Easily download and install the intuitive, easy to use, PrintRover Mobile Printing Client from the app stores on your Apple® iOS™ or Android™ smartphone/tablet to access your organization's PrintRover Cloud. Using PrintRover Cloud is via a simple login based on the credentials supplied by your IT.
Versatile
Wirelessly print a wide range of file formats from a wide range of apps to a wide range of printers/All-in-ones/MFPs from several manufacturers, all from a single, easy-to-use PrintRover Mobile Printing Client on your Apple iOS or Android smartphone/table, at your home, office or on-the-go.
Great Print Quality
You can obtain great quality prints with PrintRover Cloud, maintaining the formatting of your documents, from your smartphone/tablet. There is no need to access your PC for printing business reports.
Product Specifications & Features
---
Ordering & Subscription – For IT
---
Management and Administration – For IT
---
App Installation and Usage – For End-Users
---
Troubleshooting – For IT
---
Troubleshooting – For End-Users
PrintRover Cloud Subscriptions
The following offerings are available in PrintRover Cloud for IT to choose from
| | | |
| --- | --- | --- |
| No | User Limit/Licence | Customer's software proposed MSRP (US$) |
| 1 | Trial – Up to 50 Users, 30 days | 249 |
| 2 | Up to 100 Users, 1 year | 5,299 |
| 3 | Up to 250 Users, 1 year | 11,499 |
| 4 | Up to 500 Users, 1 year | 19,799 |
| 5 | Up to 1000 Users, 1 year | 32,199 |
| 6 | >1000 Users, 1 year | This email address is being protected from spambots. You need JavaScript enabled to view it. |
Note: A User-Device combination constitutes a User
Order Now
Thinxtream Technologies Pte. Ltd.
220 Orchard Road
#05-01 Midpoint Orchard
Singapore 238852
Phone: +65 66358625
Email: This email address is being protected from spambots. You need JavaScript enabled to view it.
PrintRover Cloud Support
Product/Technical Support on PrintRover Cloud
PrintRover Cloud Sales
This email address is being protected from spambots. You need JavaScript enabled to view it.
This email address is being protected from spambots. You need JavaScript enabled to view it.
This email address is being protected from spambots. You need JavaScript enabled to view it.
This email address is being protected from spambots. You need JavaScript enabled to view it.
This email address is being protected from spambots. You need JavaScript enabled to view it.
General Queries
This email address is being protected from spambots. You need JavaScript enabled to view it.
This email address is being protected from spambots. You need JavaScript enabled to view it.
This email address is being protected from spambots. You need JavaScript enabled to view it.