Printing in organizations, a basic requirement, is no longer just a simple, desktop-to-printer operation:
Stringent regulations and business requirements for stricter data privacy, confidentiality, and intellectual property rights protection across industries, with stiff penalties and liabilities for violations and breaches, are forcing organizations to review security levels in printing.
The increased usage of smart phones and tablets in organizations, accelerated by BYOD policies, is driving the need for better mobile printing functionality on par with the traditional desktop environment.
Complicating all of this is the requirement to track, control and manage printing across a diverse desktop environment, mobile environment and multiple brands of printers/MFPs/All-in-ones in your organization.
Not to mention the desire to have a single solution addressing all your needs, while protecting your existing investments in printing infrastructure.
A traditional printer driver from the printer vendor will no longer suffice. Comprehensive solutions from printer vendors or point solutions, if available, from mobile operating system suppliers and others, leave you with many challenges such as:
Inability to implement secure printing support for your existing legacy fleet of print devices
Lack of support for a wide range of print devices from multiple vendors
Multiplicity of mobile & desktop printing solutions to meet the varied operating environments of organizations
Concerns with page formatting, accurate reproduction of documents & usability of the printouts
Lack of support for a wide range of file formats including Microsoft Office® (Microsoft® Word, Microsoft Excel®, Microsoft PowerPoint®) and printing access from different mobile apps
High overall cost of ownership
Thinxtream's Print Solutions Group has been a pioneer in developing the PrintJinni® suite of mobile printing apps across multiple mobile operating systems, and printer OEM specific apps such as Mobile Print App for Dell™ (Apple® iOS™ version), Mobile Print App for Dell (Windows® RT version) and PrintJinni® for Epson®. Our mobile printing apps, enable users of Apple iPhone®, iPod Touch®, iPad®, BlackBerry® and Android™ based smart phones and tablets, to print a wide range of file formats directly from their mobile devices to a wide range of multi-vendor printers/All-in-Ones/MFPs with high quality.
We understand the printing challenges and requirements of organizations such as yours. Leveraging our advanced printing expertise, Thinxtream® Print Solutions Group now offers PrintRover®, a suite of mobile printing solutions to meet the printing needs of small & medium businesses (SMBs), large enterprises and organizations.
PrintRover® Solutions
PrintRover solutions offer you:
High levels of security
Accurate & great quality printouts
Support for a broad range of printers/All-in-Ones/MFPs from several manufacturers
Support for a wide range of file formats, including email, Microsoft Office documents, PDF, JPEG (photos), Web pages
PrintRover solutions can help your organization by:
Providing a secure operating environment that is easy to administer
Offering printing solutions that are convenient and easy to use across a wide range of environments
Increasing employee productivity with professional looking, what-you-see-is-what-you-get (WYSIWYG) prints from their mobile devices on the go
Improving ROI with a single, cost-effective, multi-vendor, multi-device, multi-file format printing solution
PrintRover is available in two flavours – PrintRover Cloud™ and PrintRover Enterprise™
PrintRover® Cloud™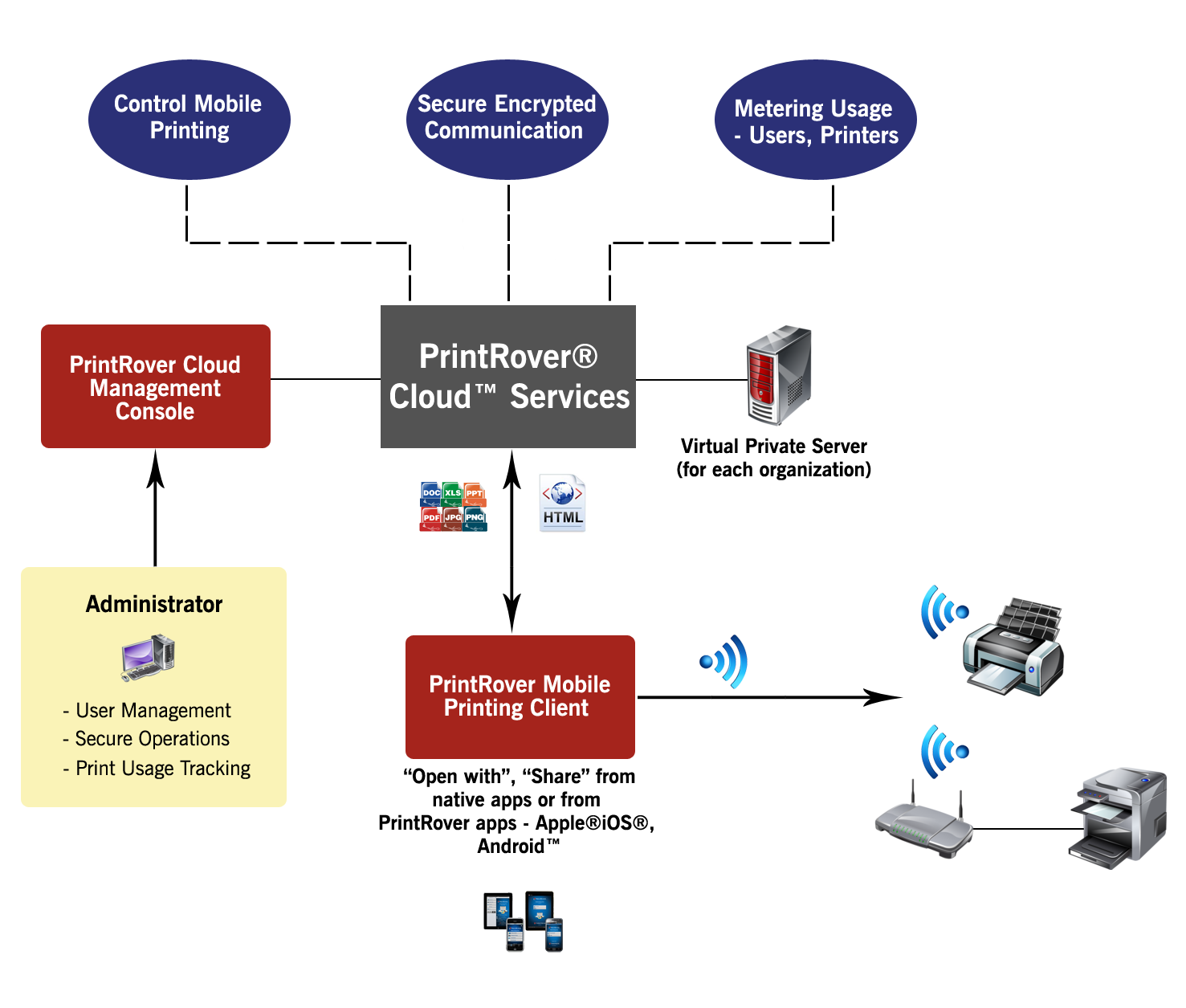 Provides secure access to cloud-based services with virtual, private server infrastructure set up exclusively for each organization
Ready to go, fully-managed solution, needing no additional infrastructure
Supports Apple iPhone, iPad & Android smart phones/tablets
Prints wirelessly to Wi-Fi enabled/connected printers/All-in-Ones/MFPs at homes, offices or on-the-go
Offers easy, simple user administration, security administration and printing usage reports
PrintRover® Enterprise™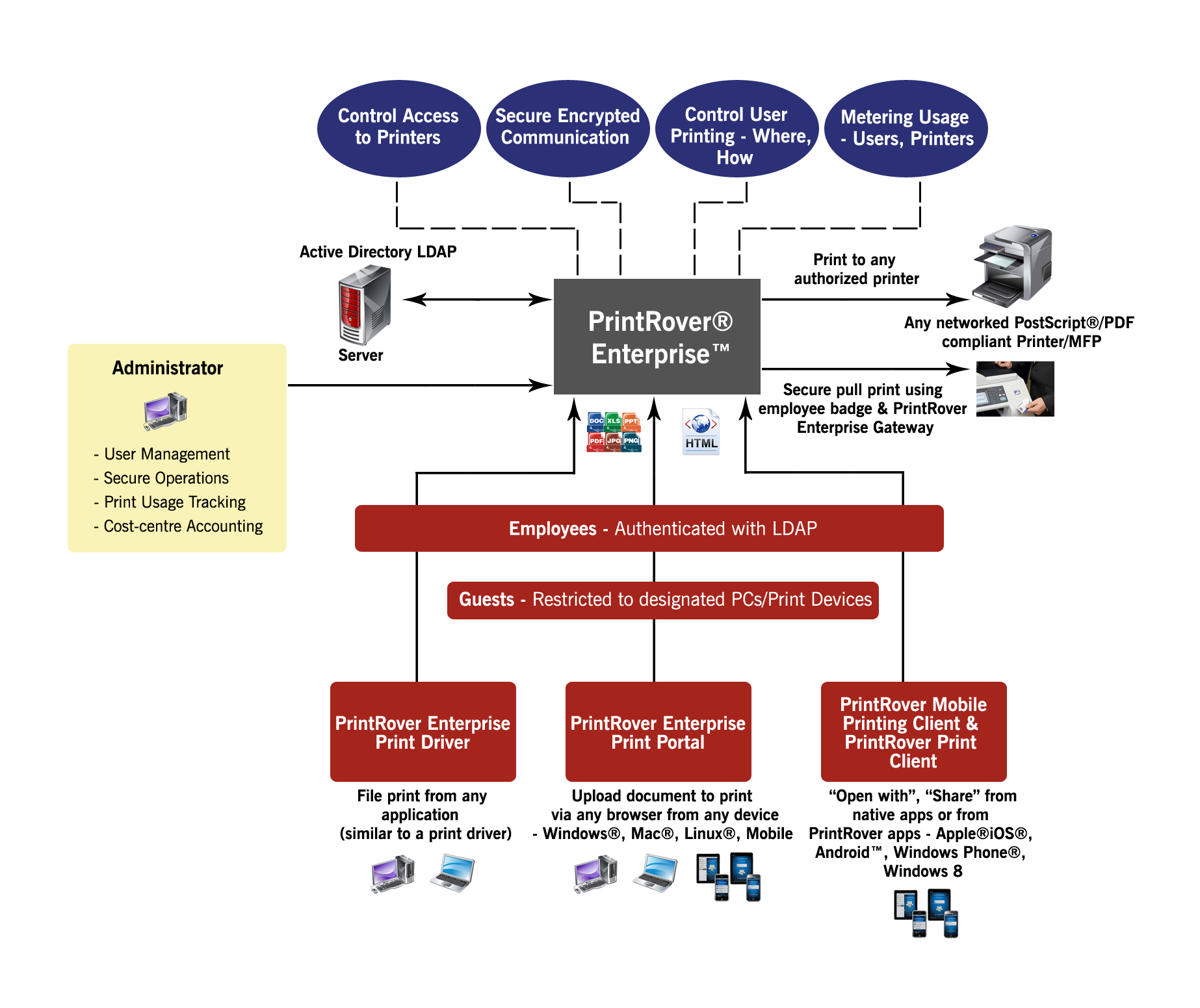 Offers secure printing to any networked print device in the organization – users need access card authentication to collect prints
Authenticates of users via integration with organization's Active Directory
Provides a unified solution that supports printing from both Apple iPhone, iPad, Android and Windows Phone®, smart phones/tablets as well as Windows®, Mac® desktops/laptops
Prints to printers/MFPs across the organization's LANs, and wirelessly to Wi-Fi enabled/connected printers/MFPs
Offers advanced user administration, security administration and printing usage management
Flexible server deployment options – on-premise or on the cloud with Windows Azure™
Which one's appropriate for my organization?
We understand that your organization's needs are varied. With twin offerings, PrintRover provides you the choice of selecting a printing solution that's most appropriate.
PrintRover Cloud will work best for you if your organization requires:
High-quality, professional printouts
A mobile printing solution for employees using mobile devices
A single solution to print from Apple iPhone, iPad and Android smartphones & tablets
Printing on-the-go with support for a wide range of file formats and a wide range of Wi-Fi enabled/connected printers/All-in-Ones/MFPs
A fully managed, ready to go, secure solution with no capital investments in expensive server infrastructure and minimal IT time investment in user administration
Simple user administration functionality and printing usage reports
A cost-effective solution in an opex business model
PrintRover Enterprise will work better for you, if your organization's requirements are more advanced:
Greater level of security with access card authentication
A unified printing solution for employees using both mobile devices and desktops/laptops
A mobile printing solution for Apple iPhone, iPad, Android and Windows Phone® smartphones & tablets
A common print driver on Windows® desktops/laptops for various printers/MFPs
Printing to a wide range of existing printers/MFPs connected to wired/wireless networks
An on-premise solution with tighter integration to the organization's security environment
Advanced user administration functionality and printing usage management
A cost-effective solution in a capex business model